"Welcome to your dreams"
Art & Ambiente is the furniture store for everyone who defines interior design where the everyday ends and where pleasure, art, individuality and enjoyment begin. "
"Wilkommen in Ihren Täumen"
Art & Ambiente ist das Einrichtungshaus für alle, die Raumgestaltung dort definieren, wo das rein alltägliche endet und die Lust, die Kunst, die Individualität und der Genuss beginnen"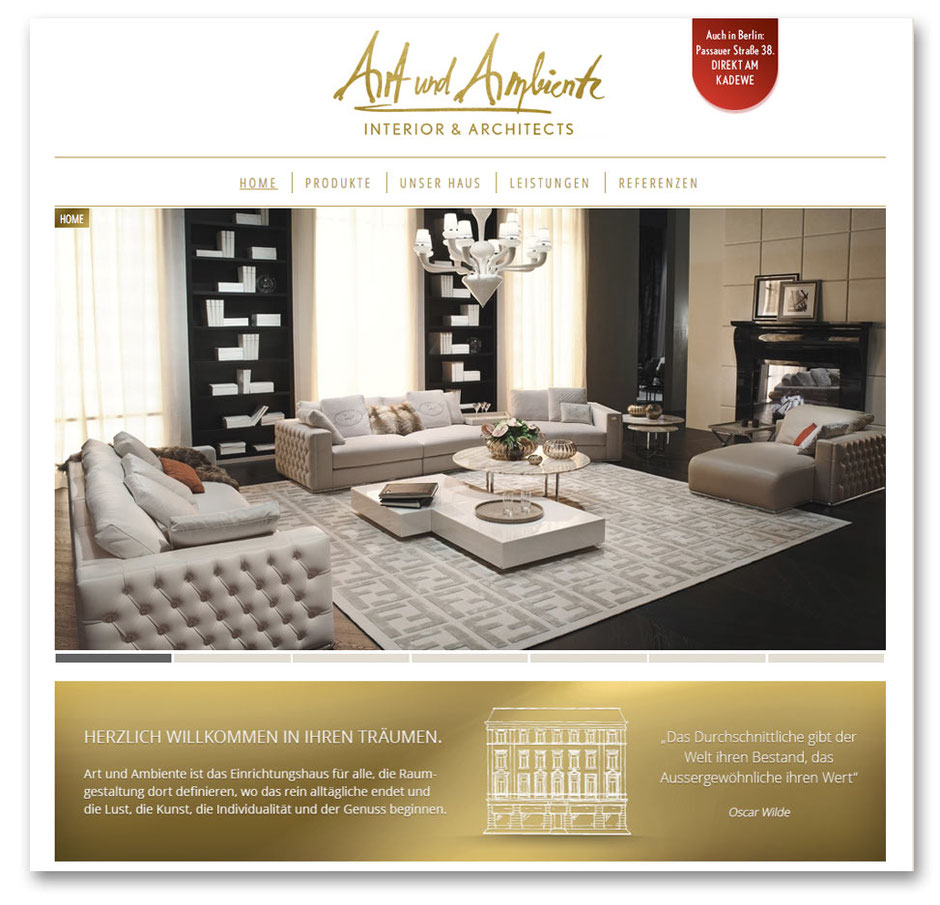 Twenty years of experience in beauty comes from over 100 years of history. 1993 saw the founding of Bernhardt Gmbh and the furnishing house Art und Ambiente. With this we are continuing a long tradition that began 1867 with the founding of a traditional decorating trades company. For 25 years stands Art und Ambiente for exclusive architecture, interior furnishing and design, planning and high quality decoration.
Zwanzig Jahre Erfahrung in Schönheit kommen aus einer über 100-jährigen Geschichte. 1993 gründete sich die Bernhardt GmbH und das Einrichtungshaus Art und Ambiente. Damit setzten wir eine lange Tradition fort, die 1867 mit der Gründung eines traditionellen Handwerksunternehmens begonnen hatte. Art und Ambiente steht seit 25 Jahren für exklusive Architektur, Inneneinrichtung, Interior Design, Planung und hochwertigste Innenausstattung.
Our Presence: Germany, Russia, England. Telling a story with each detail, creating architecture, transforming spaces into compositions large or small. Our team of architects, interior designers and planners supports you from the initial concept through the planning and realisation stages and on to final acceptance.
 Unsere Präsenz: Deutschland, Russland, England. Mit jedem Detail ein Ganzes erzählen, Architektur schaffen, Räume in kleine und große Kompositionen verwandeln. Unser Team von Architekten, Innenarchitekten und Planern begleitet Sie vom ersten Konzept, über die Planung und Umsetzung bis zur Endabnahme. Das gilt sowohl für den Neubau, als auch für die Umgestaltung vorhandener Raumsituationen.
We view your interior design as a challenge, in continuous consultation with your intentions. Our architects and designers utilise the extensive portfolio of high-quality brand manufacturers such as Visionnaire, Fendi, Malerba, Promemoria, Donghia, Poliform, Minotti and B&B italia, in the entire range from classic to elegant, from unusual to sophisticated. This is why what we hand over at the end of a project is not just living space but also an overall work of art.
Ihre Inneneinrichtung betrachten wir als Herausforderung, in ständiger Abstimmung mit Ihren Intentionen. Unsere Architekten und Designer bedienen sich aus dem umfangreichen Portfolio hochwertiger Markenhersteller wie Visionnaire, Fendi, Malerba, Promemoria, Donghia, Poliform, Minotti oder B&B italia in der ganzen Fülle von klassisch bis elegant, von außergewöhnlich bis repräsentativ. Deshalb übergeben wir am Ende eines Projektes nicht nur Wohnräume, sondern immer ein Gesamtkunstwerk.
Art und ambiente realises the planning of hotels, hotel room and the accompanying public areas such as restaurant, lobby, reception, spa and wellness area. In the process we support you from the design to realization and on to opening, as planner or general constractor. We plan, supply and assemble. Allow us to impress and inspire you.
 Art und Ambiente realisiert die Planung von Hotels, Hotelzimmern und der dazugehörigen öffentlichen Bereiche wie Restaurant, Lobby, Rezeption, Spa und Wellnessbereich. Dabei begleiten wir Sie vom Entwurf über die Realisierung bis zur Eröffnung als Planer , oder Generalunternehmer. Wir planen, liefern, montieren. Lassen Sie sich von uns beeindrucken und inspirieren.